This article concerns new content for Gears of War 4.
Information in this article may change often, as new features are announced by the developers.
Please be aware that any information added to the article should be properly referenced. If it is not, it is likely to be removed.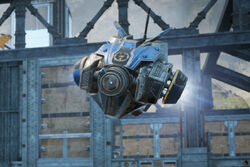 Watchers were small, hovering robotic units that acted as surveillance drones for the various Settlements constructed by the reformed Coalition of Ordered Governments. Weaponized versions were later created, including the Guardian and Sentinel.
In Settlement 5, one Watcher surprised a group of Outsiders that were seeking to raid the incomplete settlement for the valuable Fabricator located at the heart of the town. Upon scanning JD Fenix, the Watcher notified Settlement 5's security and flew away while JD and his friends battled the DeeBees.
Appearances
Edit
Locust Horde
Sire
Berserker · Boomer (Butcher, Flame Boomer, Grinder, Mauler, Mauler Elite, Savage Boomer, Tremor) · Drone (Beast Rider, Bolter, Cleaver Theron, Cyclops, Flame Drone, Flame Grenadier, Grappler, Grenadier, Grenadier Elite, Gunner, Hunter, Hunter Elite, Miner, Palace Guard, Rager, Savage Drone, Savage Grenadier, Savage Grenadier Elite, Savage Hunter, Savage Marauder, Savage Theron, Sniper, Spotter, Theron Elite, Theron Guard, Theron Sentinel) · Kantus (Armored Kantus, Savage Kantus)
Hollow Creatures
Bloodmount · Brumak · Corpser (Shibboleth) · Digger · Gas Barge · Heart Leech · Kryll · Leviathan · Mangler · Nemacyst · Nemacyte · Reaver (Hydra) · Riftworm · Rock Worm · Seeder · Serapede · Shrieker · Siegebeast · Tempest · Ticker · Torture Barge · Wretch
Lambent
Imulsion
Former · Lambent Berserker · Lambent Brumak · Lambent Drone · Lambent Drudge · Lambent Gunker · Lambent Leviathan · Lambent Polyp · Lambent Stalk · Lambent Wretch
Swarm
Canker · Carrier · Drone (Elite Drone · Grenadier · Hunter · Imago · Sniper) · Hive Beast · Juvie (Screamer) · Pouncer · Scion · Snatcher · Swarmak
DeeBees
DR-1 · Shepherd (Deadeye) · Tracker (Shock Tracker) · Watcher (Guardian · Sentinel)
Ad blocker interference detected!
Wikia is a free-to-use site that makes money from advertising. We have a modified experience for viewers using ad blockers

Wikia is not accessible if you've made further modifications. Remove the custom ad blocker rule(s) and the page will load as expected.