Sid
Biographical information
Homeland

Canada

Date of birth

Before Emergence Day (9/11/92)

Physical description and equipment
Rank(s)

Admin

Species

Human

Gender

Male

Height

5'6

Hair color

Dark Brown

Eye color

Blue

Weapons

Wood Metal Stick

Equipment

Blue Lens Black Frame Sunglasses

Chronological and political information
Notable Facts

"I Helped the Community!" & "Fear The Reaper!" Epic Forum's Badge owner
First Canadian Epic Reaper (Sir Melty Face)
Mentioned in the special thanks section of Kilo Squad: The Survivor's Log

Affiliation
"THE ULTIMATE SUBSTANCE! Flammable like wood but dense as steel we will call it WOOD METAL!"
— Some crazy guy i know.....he's a genius.
Info's and Stuff's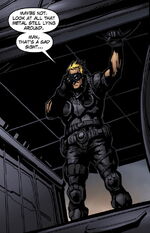 Sup person who's reading this. So about me, well I'm a HUGE fan of Gears of War if you hadn't already guess that. Ive played the games so many times I've lost count and I've spent hours upon hours reading and then rereading the novels, comic, art books…etc. I love talking to the writers of the various games/books asking about stuff that may not have been shown or getting some clarification on something that was shown/said. So umm lets just say i know my stuff when it comes to Gears.
Me personally well I'm a huge art enthusiast! I love looking and collecting various pieces of art from my favourite artists. My favourite styles include comic art, concept artwork, pixel art…etc. Its probably the second most costly thing i spend my money on..first is Gears merch. I read comic books on a daily basis, my top two would have to be Deadpool comic's and Transformers comics (Specifically the More than Meets the Eye series). Oh i also like pie.
I have a very optimistic, positive and outgoing personality, if you need any help with anything just ask me on my talk page and ill try my best to help you out. But if i find you vandalizing pages or writing stupid shit ill ban your ass so quick you won't know what hit you. Just remember stay classy Gearheads. *salutes* Thank you.
Oh! Oh! One more thing that i almost forgot to say. My names not "Sid", my real name is Andrew if you were wondering. The reason i go by Sid is because people online mostly use it as a short form for my username Parasidian; its easier to remember, type and say.
Favorites
Favourite pieces of Gears artwork
Favorite Gears
Favorite pages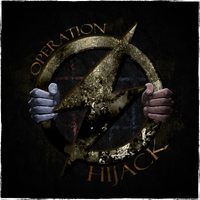 Operation Hijack Forum Event
"BOOM SHAKALAKA!!!"
— Pvt. Sid after successfully defending Bastille prison from the Locust assault.
Master mind behind the Operation Hijack forum event, members would have to complete challenges to win care-packages given out by Lt. Sid and prisoner Garron Paduk. Author of the cheesy mini Fan-Fiction tie in story Adventures of Private Sid.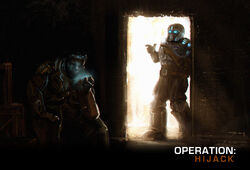 Adventures of Private Sid
Date: 15 day's after E-day Prison transport three vehicle convoy; Beta One in first APC:
Bzzz……Bzzz…Incoming Call..….*click*
Pvt. Sid: "Umm Hello? Do you read me control? Does this thing even work? I require clarification. Who am I escorting to…wait what was the name of the of the prison again as well…heh?"
CIC: "Private Sid this is the third time you have called for the same information. *sigh* You are escorting the UIR soldiers we captured to Bastille a COG Maximum Security Prison, just outside Halvo Bay."
Pvt. Sid: "My bad control, I'm kind of forgetful. Wait I though the Pendulum Wars were over why do we still have UIR soldiers as prisoners?"
CIC: "Private it is not your place to question orders. But if you must know they are from the Republic of Gorasnaya, and since they never signed the armistice they are still considered prisoners of war."
Pvt. Sid: "Roger that control, I can see the prison up ahead. Last question before I arrive at…Bastille was it? What's the deal with that large fellow with the scars?"
CIC: "That's not important Private. Make sure he is secure in his cell before you depart. On your way back to base remember to deliver all those care packages to the rest of the soldiers at your base then rendezvous with your squad. Control out." *click*
Pvt. Sid: "Ugh! Why do I have to be the guy who has to escort these prisoners! On top of that I have to deliver all those care packages, that's going to take forever. *sigh* I bet this is punishment for calling the Sergeant an ape faced buffoon and saying that he couldn't even lead his men out of a brown paper bag. But I swear I had no idea he was standing right behind me when I said that. Jones…. Jones are you even listening to me?"
Pvt. Jones: "Huh? What? No, I'm sleeping leave me alone Sid."
Pvt. Sid: "Wow thanks for the chat buddy, you're a good friend. *rolls eyes* Oh it seems we've arrived at…….oh shit I forgot the name of this place again. Well this day can't get any worse."
To be continued in Part 2: In the Shit, Up to Here.
Played/Read Completely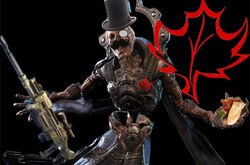 Epic Reaper Experience
First and for most i want to say it was truly an honour to be able to use the Epic Reaper. I will never forget this experience!
You can read all about my Reaper experience here: The Memoirs of Sir Melty Face a Canadian Reaper
Pages I've Created
Achievements
| | |
| --- | --- |
| | This user, Parasidian, has been awarded the JacktheBlack Award. The JacktheBlack Award is an accolade given solely by JacktheBlack that glorifies the users that have shown tenacity in the improvement of Gearspedia. This user has proven himself worthy of this acclimation of persistence by JacktheBlack. Given on this date, June 27th, 2012, to Parasidian. |
References