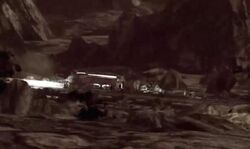 Timgad Valley was the site of the final battles of the Lightmass Offensive.
Lightmass Offensive
Edit
Fourteen years after Emergence Day, the COG located an Imulsion sinkhole in the Timgad Valley to deploy the Lightmass Bomb in.[1] Several Gear squads, including Echo-Nine, were stationed there to secure the bombing zone.[2] The Delta-One delivered the bomb abord the Tyro Pillar into the sinkhole and detonated it, killing thousands of Locust.[3]
After the Offensive
Edit
Apparently, the Hollow under the Timgad Valley served as the breeding grounds of the Kryll, which were wiped out after the Offensive.[4] However, the Lightmass bombing caused most of the Gears stationed in the Timgad Valley to get Rustlung, and the Locust remerged a short time later.[2]
References
Edit