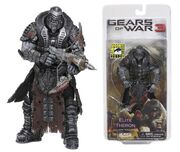 This article is about the Real World
Box Summary
Edit
The black-armored Theron Elite are exceedingly rare, and truly the stuff of nightmares. They have no mercy, no compassion and no care for their own safety. They live only to kill at the whim and direction of RAAM, their savage and brilliant General. Few have faced them and survived, and none have come away unscathed.
Accessories
Edit
The figure comes with one accessory, a Torque Bow.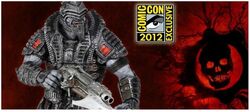 This figure was a San Diego Comic Con exclusive.
Originally, the Elite Theron was advertised holding the Elite Sawed-Off Shotgun, yet the picture was quickly changed by NECA to show him holding a Torque Bow.
Ad blocker interference detected!
Wikia is a free-to-use site that makes money from advertising. We have a modified experience for viewers using ad blockers

Wikia is not accessible if you've made further modifications. Remove the custom ad blocker rule(s) and the page will load as expected.