This article is about the Real World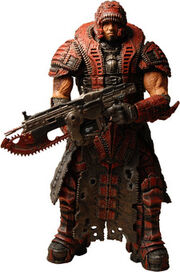 Box Summary
Edit
Facing overwhelming odds in their desperate search for the Locust Queen, Marcus and Dom suit up in Theron armor to attempt a more covert approach. This figure represents Dominic Santiago from the "Road to Ruin" deleted chapter from the Gears of War 2 Campaign, available in the "Dark Corners" add-on.
Accessories
Edit
The figure comes with two accessories, a Lancer and an interchangeable head. This Lancer is inter-changeable and can be used with other figures.
Related Articles
Edit
Ad blocker interference detected!
Wikia is a free-to-use site that makes money from advertising. We have a modified experience for viewers using ad blockers

Wikia is not accessible if you've made further modifications. Remove the custom ad blocker rule(s) and the page will load as expected.