Ad blocker interference detected!
Wikia is a free-to-use site that makes money from advertising. We have a modified experience for viewers using ad blockers

Wikia is not accessible if you've made further modifications. Remove the custom ad blocker rule(s) and the page will load as expected.
Tanner
Biographical information
Homeland

Unknown

Date of birth

Unknown; Before Emergence Day

Date of death
Physical description and equipment
Rank(s)

Private

Species
Gender

Male

Equipment
Chronological and political information
Era(s)
Notable Facts
Affiliation
"Rest in peace, Tanner. Damn."
— Cole, on the discovery of Tanner's body
Private Tanner was a Gear soldier in the Coalition of Ordered Governments army and member of Sigma-One that took part in Operation: Hollow Storm.
Biography
Edit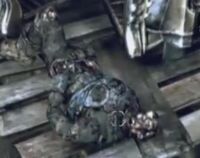 Operation: Hollow Storm
Edit
On the route to Landown aboard Rig D28, Tanner and Sigma-One assisted Delta-One several times. Tanner was Cpl. Damon Baird's grindlift jumpmate for going into the Hollow. However, he and Baird were captured shortly after they landed. Tanner was killed by the Locust, and Delta-One discovered his body in a Locust holding area filled with cells. Pvt. Augustus Cole was upset at Tanner's demise, but they then discovered Baird around the corner, still alive and stuck in his own cell.[2]
Behind the scenes
Edit
Tanner's dead body is the same model for many of the dead Gears.
Appearances
Edit
References
Edit