Streets
Games
Default Weapons
Location
Terrain

Building Interior/Exterior
Streets is a multiplayer map for Gears of War: Judgment. It is only playable on the following game types; Domination, Free For All, Team Deathmatch, and Execution.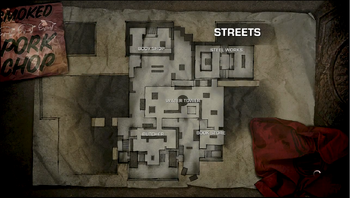 Description
Edit
The back alleys and blue collar sections of Halvo Bay will never appear on a tourist's postcard, but these industrial roads and facilities are the true heartbeat of the city. Climbing to the rooftops won't improve the view - or the smell - but it will provide a better vantage point from which to set up defenses. Just be careful at night; you could end up smelted in the steelworks, or left as meat for the butcher.[1]
References
Edit
Ad blocker interference detected!
Wikia is a free-to-use site that makes money from advertising. We have a modified experience for viewers using ad blockers

Wikia is not accessible if you've made further modifications. Remove the custom ad blocker rule(s) and the page will load as expected.