Walkthrough
Edit
Secure the platform and catch the train.
You walk right into a massive firefight that thankfully starts off pretty slow. There are a few Snipers on the platform overhead. Take them out, then watch for Wretches and rumbling that signals the opening of an Emergence Hole to the left. Nail it with a grenade to stop the flow of Locusts, then wait for more rumbling and a second Emergence Hole.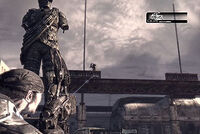 The second Emergence Hole opens up on the far right side of the train yard. Again, if you've got a grenade it's good to close up the hole as soon as it opens. A few more Wretches will appear along with a lot more Locust soldiers from the right. Hold your ground in the center of the train yard for the best defense, and also watch for enemies firing from inside the parked trains.
When the coast is clear, stock up on ammo and cross in front of the parked train to reach the empty train platform. A cutscene takes over that brings you to the next chapter.

Ad blocker interference detected!
Wikia is a free-to-use site that makes money from advertising. We have a modified experience for viewers using ad blockers

Wikia is not accessible if you've made further modifications. Remove the custom ad blocker rule(s) and the page will load as expected.