Roadie Run
Talk

2
1,884pages on
this wiki

This article is about the Real World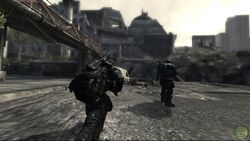 The Roadie Run is where a character crouches low and sprints. Roadie Run significantly makes the character harder to hit, and the camera will shift and bob as if a cameramen is running behind the character (unfortunately this appears to have been stripped out of Gears Of War 3, whilst in spilit-screen mode). The character will appear to be breathing hard, the heartbeat will be louder, and a little after the run. Roadie run is also used when a player wants to escape or reach a target faster. Sometimes, against the Berserkers, Roadie Run can be used to lure the Berserker to the area because the run makes a lot more noise than normal walking or jogging. However Players cannot fire their weapons in this state and are extremely vulnerable to the chainsaw. Further speculations have also indicated that a character using the Roadie run is only 1.2 times faster than normal running, and that their view of the battlefield is significantly hindered by the motion blur when using the Roadie run.
One other disadvantage of the roadie run, less common in the second game, is that it sometimes makes the player "stick" to cover. This means that the player will sometimes get onto a piece of cover without meaning to, due to the fact that you must hold A to roadie run, and press A to get onto cover.
Another disadvantage is that when you Roadie Run, you don't have full control of the character so use caution and always plan where you are going before you use this move. And yet this may be the game's AI level, but bullets can still hit you when you are Roadie running. But like it was previously stated, it may be the game's strong AI level.
In Gears of War 1, the player can only Roadie Run for a limited time but can Roadie Run again almost instantly. In Gears of War 2, however, it seems that one can Roadie Run as long as is needed. In Gears Of War 3 the Roadie Run speed has been reset back to the Gears Of War 1 Multiplayer Roadie Running speed.
Silverback
Edit
In Gears of War 3, you are able to roadie run using the new exo-suit: the Silverback.