Rig D11
Production information
Manufacturer
Product line
Class

Assault Transport

Technical specifications
Length

42 feet

Height

28 feet

Hull

Armor plating
Bullet-proof glass[1]

Armament

One turret-mounted chaingun

Crew

One driver

Passengers

One Gear squad

Usage
Role(s)

Assault
Drilling Grindlifts into the ground
Transport

Destroyed
Era(s)
Affiliation
Rig D11 was an Assault Derrick that took part in Operation: Hollow Storm.
Hospital Raid
Edit
Rig D11, along with Rig G53 and Centaur escorts, passed the garage that Delta-One was clearing Wretches out of before the Locust raided Jacinto Med.[3]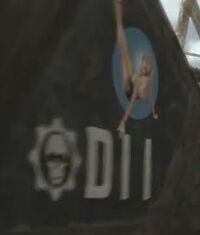 Operation: Hollow Storm
Edit
During the Assault on Landown, Rig D11 was the Rig at the front of Rig 314's convoy. It was the second Rig to be destroyed on the road to Landown, after taking several mortar hits and being torn apart by a Reaver. It fell over the side of the ridge and exploded.[4]
Appearances
Edit
References
Edit
↑ Gears of War 2: Act 1: Tip of the Spear: Welcome to Delta
↑ Gears of War 2: Act 1: Tip of the Spear: Rolling Thunder
Ad blocker interference detected!
Wikia is a free-to-use site that makes money from advertising. We have a modified experience for viewers using ad blockers

Wikia is not accessible if you've made further modifications. Remove the custom ad blocker rule(s) and the page will load as expected.