Lambent Polyp
Talk

0
1,884pages on
this wiki
Redirected from Polyp
This article is a

Stub

and needs your help. Please improve it by adding more information.
This article, Lambent Polyp, may require cleanup. Deploy Delta Team to East Barricade Academy and retrieve the data immediately!
Polyp
Biographical information
Physical description and equipment
Species

Lambent

Eye color

Yellow

Chronological and political information
Era(s)
Affiliation
The Polyp was a form of Lambent that appeared after the Sinking of Jacinto. They were the most basic form of Lambent, spawning within both Lambent Stalks and the bodies of other Lambent creatures.
Appearance
Edit
These smaller parasitic Lambent are crab-like with six legs and a small abdomen. They are normally spewed from Lambent Stalks and mutated Drudges. Like all other Lambent forms, they have black, rock-like skin with glowing yellow Imulsion-like blood. They spit a noxious, Imulsion goo when threatened and can swarm over floors, walls and ceilings to blow up at an enemy's feet. They are physically similar to Wretches, as they can climb on walls, but are more closely like Tickers gameplay-wise. They also act to spread the Lambent infection to other Locust, mainly Drones, by attaching themselves to their backs.
Behind the Scenes
Edit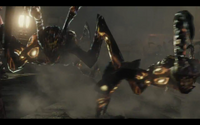 Gameplay
Edit
According to the E3 Demo, the Polyp will swarm from larger Lambent to attack the player. They have very little health; entire swarms being easily defeated by Lancer fire. However, the explosive damage is high when fought at too close a range, and can cause a lot of damage when exploding in packs.
References
Edit
http://gameinformer.com/b/features/archive/2010/05/28/The-Enemies-Of-Gears-3.aspx
Locust Horde (Queen's Guard, Savage Locust)
Sire
Berserker · Boomer (Butcher, Flame Boomer, Grinder, Mauler, Mauler Elite, Savage Boomer, Tremor) · Drone (Beast Rider, Bolter, Cyclops, Flame Grenadier, Grappler, Grenadier, Grenadier Elite, Gunner, Hunter, Hunter Elite, Miner, Palace Guard, Sniper, Spotter, Theron Elite, Theron Guard , Theron Sentinel, Savage Drone, Savage Grenadier, Savage Grenadier Elite, Savage Hunter, Savage Marauder, Savage Theron) · Kantus (Armored Kantus, Savage Kantus) · Rager
Hollow Creatures
Bloodmount · Brumak · Corpser · Digger · Gas Barge · Heart Leech · Hydra · Kryll · Leviathan · Mangler · Nemacyst · Reaver · Riftworm · Rock Worm · Seeder · Serapede · Shibboleth · Shrieker · Siegebeast · Tempest · Ticker · Torture Barge · Wretch
Lambent
Imulsion · Lambent Berserker · Lambent Brumak · Lambent Drone · Lambent Drudge · Lambent Gunker · Lambent Leviathan · Lambent Polyp · Lambent Stalk · Lambent Wretch
Former