Paryk
Production information
Manufacturer
Product line

Gorasnaya Container Ship

Technical specifications
Passengers

At least 500

Usage
Role(s)

Container ship

Era(s)
Affiliation
Paryk was a Republic of Gorasnaya container ship.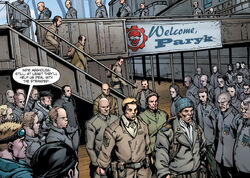 Transport to Vectes
Edit
After the Republic of Gorasnaya joined with the Coalition of Ordered Governments fifteen years after Emergence Day, Paryk was used to transport five-hundred Gorasni civilians to the island of Vectes.[1]
Leaving Vectes
Edit
Several months later, when the island started to become overrun with Lambent, it was decided that the Coalition of Ordered Governments would leave Vectes, ceasing to be the COG and becoming Stranded in the process. Paryk was part of the motley fleet that left the island, and was used to transport people, animals, and vehicles, and offload them to the mainland for Col. Victor Hoffman's convoy to Anvegad.[2]
Appearances
Edit
References
Edit
↑ Gears of War: Anvil Gate pg 8-9
↑ Gears of War: Coalition's End pg 563
Ad blocker interference detected!
Wikia is a free-to-use site that makes money from advertising. We have a modified experience for viewers using ad blockers

Wikia is not accessible if you've made further modifications. Remove the custom ad blocker rule(s) and the page will load as expected.