Overpass
Talk

0
1,885pages on
this wiki
This article is a

Stub

and needs your help. Please improve it by adding more information.
Overpass
Games
Default Weapons

Multi-Turret
Boom Shield
Frag Grenade
Incendiary Grenade
Boltok Pistol
Grogon Pistol
Boomshot
Torque Bow
Scorcher

Location

Jacinto's Ruins

Terrain

Dynamic Urban
Overpass is a new multiplayer map featured in Gears of War 3. It takes place on an abandoned overpass in sinking Jacinto, and has many map dynamics involving this series of events, as more and more of the map is submerged as time goes on. This map is notable for having the new Multi-Turret on it, revealing that it will appear in multiplayer. It was revealed in the June Issue of Game Informer along with the Thrashball Arena.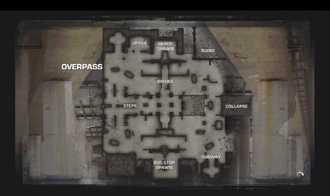 The upper fort-like area in the center of the map is easily defendable by one person as the Locust/Lambent are forced into a bottleneck up the stairs. And the four barrier areas are shorter, and therefore cost less, allowing the man-able turret at the top to be bought earlier in the waves, and barriers to be bought cheaper and more quickly. There are also no backdoors, so the horde can't sneak up on you, however this also means no escape routes if the horde makes its way up the stairs into the fort and mobs you. The closest thing to an escape route is to cross the dead-end bridge and use the turret you will have to buy as cover. This will only work for 2 people at a time, and any third person that comes along will be exposed to enemy fire and likely be blocking the turret-gunner's line of sight to any enemies that have made it up the stairs.
===Command Post 1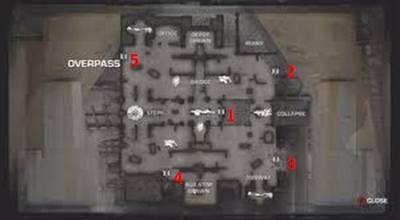 ===
Location: Top of the stairs in the back.
Barriers (Long/Short): 0 / 4
Decoys: 0
Turrets: 2
Sentries: 1
Command Centers: 1
Command Post 2
Edit
Location: Next to the blue car wedged on the concrete block.
Barriers (Long/Short): 5 / 0
Decoys: 1
Turrets: 1
Sentries: 1
Command Centers: 1
Command Post 3
Edit
Location: From the Torque Bow/Boomshot spawn, the side with the truck flipped on its side.
Barriers (Long/Short): 3 / 4
Decoys: 1
Turrets: 1
Sentries: 1
Command Centers: 1
Command Post 4
Edit
Location: From the Torque Bow/Boomshot spawn, the side with the sandbags.
Barriers (Long/Short): 2 / 4
Decoys: 1
Turrets: 2
Sentries: 1
Command Centers: 1
Command Post 5
Edit
Location: At the bottom of the stairs, take a right and it is next to the frag/incendiary grenade spawn.
Barriers (Long/Short): 7 / 2
Decoys: 0
Turrets: 1
Sentries: 2
Command Centers: 1
References
Edit