Novak
Biographical information
Date of birth

Unknown

Date of death

0 B.E.

Physical description and equipment
Species
Gender

Male

Chronological and political information
Era(s)
Affiliation
Novak was a Gear soldier in the Coalition of Ordered Governments army and was a member of C Company of the 26th Royal Tyran Infantry.
Biography
Edit
Cliffside Ambush
Edit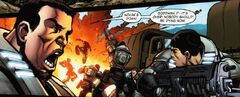 In the last days of the Pendulum Wars, Novak and the rest of C Company were resting on a cliffside road in the Independent Republic of Furlin when word came over the radio that the Union of Independent Republics would be surrendering. As the company began celebrating, they came under attack by Indie mortar fire from a unit which believed the cease-fire was a Coalition of Ordered Governments trick. Novak was hit by a mortar and killed.[1]
References
Edit
Ad blocker interference detected!
Wikia is a free-to-use site that makes money from advertising. We have a modified experience for viewers using ad blockers

Wikia is not accessible if you've made further modifications. Remove the custom ad blocker rule(s) and the page will load as expected.