Gearspedia
Gearspedia is a community that aims to create the best resource for the Gears of War series of games, and the universe they take place in.
We are currently editing over 2,008 articles.
All pages can be edited and you are welcome to join us and contribute to this wiki. Everyone is free to create a new page or edit an existing one. If you have any questions about the wiki or helping out, you can ask one of the administrators of Gearspedia. We'll be happy to help!
If you want to experiment with editing a wiki, please do it in the Sandbox, not in articles. Please do not do it in the articles because we love our articles! Go help Gearspedia please!
Article of the Month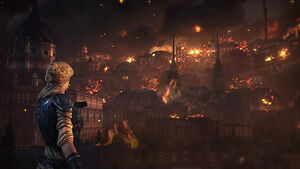 "Colonel, everyone in Halvo Bay is going to die..."
— Lt. Damon Baird
The Destruction of Halvo Bay was a three month long battle and one of the largest battles to take place in the early stages of the Locust War. Thousands of Onyx Guards and Gears, led by Colonel Ezra Loomis, fought against the Personal Guard of Locust General Karn in the streets of Halvo Bay and Onyx Point. Colonel Loomis, a Pendulum Wars hero who had spent twenty years fighting the UIR, was unable to adapt to fighting the Locust Horde. The Locust, who were led by E-Day planner General Karn, had just arrived from his early victory at the UIR rogue state of Gorasnaya. During the height of the battle, Colonel Loomis had Kilo Squad tried in a military Tribune without legal representation for a series of crimes. The Locust Horde military strategy contradicted COG military intelligence and thus the COG were unprepared for an intelligent enemy.
Recent news
April 21, 2016 Dodgeball is our 2000th page!
April 8, 2016 Gears of War 4 is announced for a release on Oct 11 and a Teaser for the GoW4 trailer was released on Twitter.
March 1, 2016 Parasidian steps down as Chief Administrator to work at The Coalition as a QA Campaign Tester, handing over leadership of the wiki to Sergeant Blige.
March 1, 2016 Gears of War: Ultimate Edition PC Released.
August 25, 2015 Gears of War: Ultimate Edition Released.
June 15, 2015 Also during the Microsoft E3 press conference, developer The Coalition debuted the first demo for Gears of War 4, coming Holiday 2016, giving us the first look at gameplay from the Xbox One shooter.
June 15, 2015 During the Microsoft E3 press conference, developer The Coalition announced Gears of War: Ultimate Edition, a remoter of the original Gears of War game which would be released August 12, 2015.
June 3, 2015 Rod also announced that the Gears of War franchise will be at E3 2015.
June 3, 2015 It was announced by Studio Head Rod Fergusson that the name of the studio has been changed from Black Tusk to The Coalition. This was done to more associate the studio with the Gears of War franchise also due to it describing the team dynamics; diverse individuals working together for a common purpose.
Poll
What do you enjoy more about Gears of War?
Helping out
Gears of War Fanon

Gears of War Fanon is our sister site. There you can write, post and read fan fiction dedicated to the Gears of War universe.
Infinity Blade

The Infinity Blade wiki is an affiliated site. There you can read and edit articles related to the Infinity Blade universe.