Home
Talk

165
1,931pages on
this wiki
Gearspedia
Gearspedia is a community that aims to create the best resource for the Gears of War series of games, and the universe they take place in.
We are currently editing over 1,931 articles.
All pages can be edited and you are welcome to join us and contribute to this wiki. Everyone is free to create a new page or edit an existing one. If you have any questions about the wiki or helping out, you can ask one of the administrators of Gearspedia. We'll be happy to help!
If you want to experiment with editing a wiki, please do it in the Sandbox, not in articles. Please do not do it in the articles because we love our articles! Go help Gearspedia please!
Article of the Month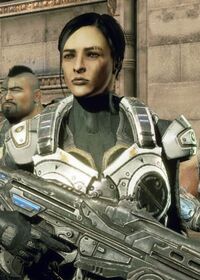 "Every life we save today is something special. It's another chance for someone."
— Valera, during the Evacuation of Ilima
Private Alicia Valera, often called "Val" by her squadmates, was a Gear soldier in the Coalition of Ordered Governments army. Valera was an expert recon soldier who was assigned to watch squads backs. She was a member of Zeta-Six during the Evacuation of Ilima. She was killed by RAAM during the evacuation.

Have a particular Article on Gearspedia you want featured? Vote for the next month's nomination Here.
Poll
Which Gears of War game do you consider is the best (Campaign Wise).
Gears of War Fanon

Gears of War Fanon is our sister site. There you can write, post and read fan fiction dedicated to the Gears of War universe.
Infinity Blade

The Infinity Blade wiki is an affiliated site. There you can read and edit articles related to the Infinity Blade universe.