Maddoc
Biographical information
Date of birth

Unknown

Date of death

Aspho Fields, 2 B.E.

Physical description and equipment
Species
Gender

Male

Weapons
Chronological and political information
Era(s)
Affiliation
Maddoc was a Gear who fought during the Battle of Aspho Fields in the Pendulum Wars against the Union of Independent Republics. He was assigned to Victor Hoffman's squad, and assisted him in blowing up a Communications tower. He later linked up with Dominic Santiago's squad, including Rose, Kizill, and Senko. Maddoc helped in defending the entrance to the scientist's labs, where he began to flee with everyone during an off-site mortar strike (commanded by Garron Paduk[1]). During the ensuing chaos, Maddoc is killed by a Mortar strike as he rushes ahead of everyone.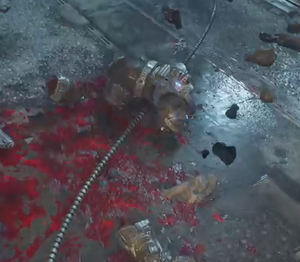 Appearances
Edit
References
Edit
↑

Gears of War 4 collectible
Ad blocker interference detected!
Wikia is a free-to-use site that makes money from advertising. We have a modified experience for viewers using ad blockers

Wikia is not accessible if you've made further modifications. Remove the custom ad blocker rule(s) and the page will load as expected.