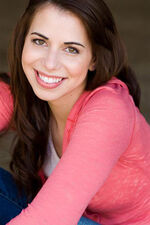 This article is about the Real World
Laura Dawn Bailey (born May 28, 1981 in Biloxi, Mississippi) is an American actress, voice actress, Singer, Line Producer and ADR Director. She has provided voices for a number of English language versions of Japanese anime films, television series, as well as video games. Laura Bailey married fellow voice actor Travis Willingham on September 25, 2011. She is the voice of Alicia Valera in RAAM's Shadow, the voice of Alex Brand in Gears of War: Judgment, and the voice of Kait Diaz in Gears of War 4.
Ad blocker interference detected!
Wikia is a free-to-use site that makes money from advertising. We have a modified experience for viewers using ad blockers

Wikia is not accessible if you've made further modifications. Remove the custom ad blocker rule(s) and the page will load as expected.