Khimera-Five-Three
Production information
Manufacturer
Product line

Khimera helicopters

Model

Khimera

Class

Assault Helicopter[1]

Technical specifications
Armament

At least one heavy-caliber machine gun-like weapon

Usage
Role(s)

Attack Helicopter

Era(s)
Affiliation
Khimera-Five-Three was a Khimera attack helicopter that participated in the Battle of Bonbourg.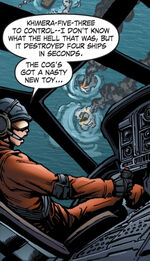 Battle of Bonbourg
Edit
During the Battle of Bonbourg, Khimera-Five-Three flew over the remains of four ships from the UIR Third Fleet that were taken out by the Coalition of Ordered Governments' Hammer of Dawn orbital platform. The pilot reported to Union of Independent Republics command that ships had been destroyed, and that the COG had a new weapon.[2]
Appearances
Edit
References
Edit
↑ Gears of War: Aspho Fields pg 276
Ad blocker interference detected!
Wikia is a free-to-use site that makes money from advertising. We have a modified experience for viewers using ad blockers

Wikia is not accessible if you've made further modifications. Remove the custom ad blocker rule(s) and the page will load as expected.