KR Two-Four
Talk

2
1,886pages on
this wiki
KR Two-Four
Production information
Manufacturer
Product line
Technical specifications
Maximum speed

180 kph

Engine unit(s)

Duel blades

Hull

Medium

Armament

Frontal Machine Gun
Chain Gun attachments on the sides

Crew

1 pilot
1 copilot
2 gunners

Passengers

12 Gears[1]

Usage
Role(s)

Transportation/Assault

Destroyed

14 A.E.

Era(s)
Affiliation
""The E.Z. is hot!""
— Pilot of Two-Four, just before being destroyed by Nemacysts
KR Two-Four was a King Raven that took part in the Lightmass Offensive.
Lightmass Offensive
Edit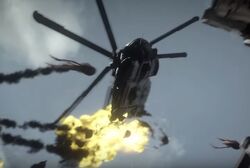 During the Lightmass Offensive, KR Two-Four was tasked with extracting Delta and Alpha squads once the Resonator was secured. Due to radio interference from Seeders, Two-Four's pilot managed a garbled communicaton with Delta in which he requested a status update and informed the squad of the Raven's low fuel. Lt.Minh Young Kim quickly relayed that they had not linked up yet, and to stand by.[2] After Delta rendezvoused with Alpha and cleared the area of Locust and Nemacyst, Two-Four came in to pick them up, but was shot down by newly arrived Nemacyst.Two-Four then slammed into the streets below in a raging fireball, cutting off Lieutenant Kim from both Delta and Alpha Squads, resulting in his death at the hands of General RAAM while the survivors retreated into the Tomb of the Unknowns.[3]
Known Crew
Edit
Unidentified Male Pilot
Current Status: KIA
This pilot was killed when KR Two-Four was shot down by Nemacyst.
References
Edit