KR Three-Six
Talk

0
1,886pages on
this wiki
KR Three-Six
Production information
Manufacturer
Product line
Technical specifications
Maximum speed

180 kph

Engine unit(s)

Duel blades

Hull

Medium

Armament

Frontal Machine Gun
Chain Gun attachments on the sides

Crew
Passengers

12 Gears[1]

Usage
Role(s)

Transportation/Assault

Era(s)
Affiliation
KR Three-Six was a King Raven gunship piloted by a female Gear that took part in the Siege of Jacinto and Operation Hollow Storm.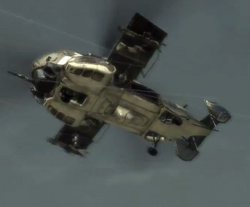 Attack on Jacinto Med
Edit
KR Three-Six provided covering fire for Gears in Sector 4 during the Locust attack on Jacinto Med.[2]
Assault on Landown
Edit
During the drive to Landown during Operation: Hollow Storm, KR Three-Six provided air support for the Rig groups.[3] It later reported that the sky above Landown had too many Nemacyst in the air to be able to provide cover. After Delta-One took them out, Three-Six provided CAP for the rest of the assault.[4]
Sinking of Jacinto
Edit
During the Sinking of Jacinto, KR Three-Six attempted to approach the south landing platform at Jacinto Command, but was unable to land due to a Reaver and several Drones being on it. It opened fire, assisting Col.Hoffman, Delta-One, and several other Gears clear the platform. It then went to check the east and north platforms. When Brumaks were sighted approaching the Command building, Three-Six requested status update on them.[5]
Known Crew
Edit
Unknown female pilot
Current Status: on active duty
This unknown female piloted KR Three-Six during several of the biggest battles near the end of the Locust-War.
References
Edit