KR Five-Nine
Production information
Manufacturer
Product line
Technical specifications
Maximum speed

180 kph

Engine unit(s)

Coaxial Rotors

Hull

Medium

Armament

Frontal Machine Gun
Chain Gun attachments on the sides

Crew
Cargo capacity
Usage
Role(s)

Assault
Carrier[2]
Troop Transport

Destroyed
Era(s)
Affiliation
"I'm on him. I'm on him. This Reaver ain't going anywhere."
— Pvt. Dylan Murphy, shortly before being shot down and killed
KR Five-Nine was a King Raven unit in the Coalition of Ordered Governments Air Corps that took part in the Siege of Jacinto. It was piloted by Pvt. Dylan Murphy[4] and was shot down in a dogfight over Jacinto Med.
Siege of Jacinto
Edit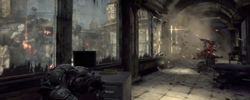 "Five-Nine, hold your fire. There are Gears and civilians in this building."
— Marcus Fenix to KR Five-Nine, after being inadvertently fired upon
Fifteen years after Emergence Day, when the Locust attacked Jacinto Med, KR Five-Nine provided air support, alongside KR One-Eight, to COG ground forces, but nearly killed Sgt. Marcus Fenix when its left-side Chain Gun fired into a hallway where he was fighting Drones. Later, whilst pursuing a Reaver over Sector 4, Five-Nine was shot down, killing all aboard. It crashed through the ceiling of Jacinto Med, right in front of Delta-One. Marcus was able to recover the COG Tag of the Raven's pilot, Dylan Murphy.[5]
Known Crew
Edit
Pvt. Dylan Murphy: He was a new pilot, excited about flying his new Raven. He was killed when KR Five-Nine was shot down over Jacinto Med.
Unidentified Female Gear: This Gear acknowledged Marcus' order to hold fire. She died when Five-Nine was shot down. She was possibly the Co-Pilot.

CSID:085177-MJ3V5-PB

Finally got my own Raven, man, I'm totally stoked! KR-59. I like that number too... it's a lucky one. Five like a fist, nine like cats have lives.
Always told 'em I'd be flying up there, was getting sick of the infantry crap. Gets crazy down there, smells like hell, never get a shower or nothing. Up there, in the sky, I'm gonna soar, man... no one flies like me. Sarge even said so, and he's been fighting since... well, since forever, basically. Said I just gotta keep my eyes peeled for Nemacyst.
Locust better start saying their prayers...'cause they got a devil in the sky watching down on 'em.
Pvt. Dylan Murphy[4]
Appearances
Edit
References
Edit
Ad blocker interference detected!
Wikia is a free-to-use site that makes money from advertising. We have a modified experience for viewers using ad blockers

Wikia is not accessible if you've made further modifications. Remove the custom ad blocker rule(s) and the page will load as expected.