KR Eight-Zero
Production information
Manufacturer
Product line
Technical specifications
Maximum speed

180 kph

Engine unit(s)

Coaxial Rotors

Hull

Medium

Armament

Frontal Machine Gun
Chain Gun attachments on the sides

Crew
Cargo capacity
Usage
Role(s)

Assault
Carrier[2]
Troop Transport

Era(s)
Affiliation
KR Eight-Zero was a King Raven unit in the Coalition of Ordered Governments Air Corps that took part in the Lightmass Offensive, patrolled around Port Farrall, and carried Delta Squad to Vectes Island on a scouting mission. It was piloted by Major Gill Gettner,[3] with Lt. Nat Barber[4] as the crew chief.
Lightmass Offensive
Edit
Fourteen years after Emergence Day, during the Battle of the Slab, KR Eight-Zero flew CAP over Jacinto Maximum Security Prison, alongside three other King Ravens, when Pvt. Dominic Santiago freed Marcus Fenix from the prison. Eight-Zero successfully extracted the duo, however KR Six-One was shot down during the extraction.[5] Eight-Zero then dropped them off at Embry Square.[6]
Port Farrall
Edit
While stationed at Port Farrall, KR Eight-Zero killed a Corpser[7] and flew cover during a Locust ambush.[8]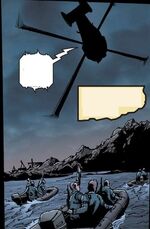 Mission to Vectes
Edit
When KR Eight-Zero went on a scouting mission to the island of Vectes, it was fitted with extra fuel tanks. The gunship provided transport and vital fire support during the expedition, especially during the Stranded raid on Pelruan, where it suffered minor damage from a grenade launcher.[9]
Rebuilding on Vectes
Edit
KR Eight-Zero later scouted the Stranded settlement on the island after a pall of smoke was spotted coming from it, and discovered that it had been set on fire.[10]
Battle of Gerrenhalt
Edit
Known Crew
Edit
Major Gill Gettner: Gettner piloted KR Eight-Zero during the Locust War and Lambent Pandemic.
Lieutenant Nat Barber: Barber served as the crew chief of KR Eight-Zero during the Locust War and Lambent Pandemic.
Appearances
Edit
References
Edit
Ad blocker interference detected!
Wikia is a free-to-use site that makes money from advertising. We have a modified experience for viewers using ad blockers

Wikia is not accessible if you've made further modifications. Remove the custom ad blocker rule(s) and the page will load as expected.