KR-5757
Production information
Manufacturer
Product line
Technical specifications
Maximum speed

180 kph

Engine unit(s)

Coaxial Rotors

Hull

Medium

Armament

Frontal Machine Gun
Chain Gun attachments on the sides

Crew
Cargo capacity
Usage
Role(s)

Assault
Carrier[2]
Troop Transport

Era(s)
Affiliation
KR-5757 was a King Raven unit in the Coalition of Ordered Governments Air Corps that took part in Operation: Hollow Storm.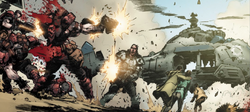 Operation: Hollow Storm
Edit
Fifteen years after Emergence Day, during the evacuation of Jacinto, KR-5757 helped in evacuating civilians from the city. While trying to evacuate a civilian family, KR-5757 came under fire from a group of Locust Drones. Sergeant Jonathan Harper provided cover fire so the family could make it to the King Raven. The family managed to get on the Raven and, just as they were about to leave, Harper was shot multiple times; he died as KR-5757 took off with the civilian family safely.[3]
Appearances
Edit
References
Edit
Ad blocker interference detected!
Wikia is a free-to-use site that makes money from advertising. We have a modified experience for viewers using ad blockers

Wikia is not accessible if you've made further modifications. Remove the custom ad blocker rule(s) and the page will load as expected.