This article is about the Real World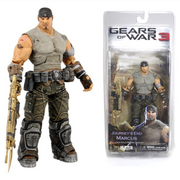 Box Summary
Edit
Marcus Fenix has become the iconic figure of the Coalition's efforts to save humanity against the Locust and Lambent threats. But underneath it all, stripped of his armor and government issued battle gear, Marcus is a man just like any other. And now with the war over, he too looks forward to the promise of a tomorrow.
Accessories
Edit
The figure comes with one accessory, the Golden Retro Lancer.
This figure was originally intended to be the exclusive Gears of War figure for the SDCC 2011, but EPIC did not want Marcus revealed without his armor before the release of Gears of War 3, so its release was delayed.
The figure was later supposed to be exclusive to GameSpot, being made available upon the release of Gears of War 3. Yet once again, the figure was delayed.