This article is about the Real World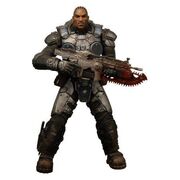 Box Summary
Edit
Jace, the youngest member of Delta Squad, finds the suffering and deprivation he sees around him hard to take. He had to grow up fast after he saw the Locust slaughter his parents when he was a kid and the Gears became his new family. Even at his young age, he's a veteran of a long and crushing war.
Accessories
Edit
The figure comes with the Lancer Assault Rifle and Gnasher Shotgun accessories. They are interchangeable and can be used with other figures.
This figure was a San Diego Comic Con exclusive.
This is the first figure to be released with a new box design to celebrate Gears of War 3.
This figure has the body sculpt of Marcus Fenix with Jace Stratton's head stuck on.
Ad blocker interference detected!
Wikia is a free-to-use site that makes money from advertising. We have a modified experience for viewers using ad blockers

Wikia is not accessible if you've made further modifications. Remove the custom ad blocker rule(s) and the page will load as expected.