Industrial staple gun
Technical specifications
Size

Very Large

Damage Per Hit

Very High to Lethal

Maximum Ammunition

Infinite

Ammunition Type

Staples
"I think it's safe to say these industrial staple guns work."
Industrial staple guns were designed for use by DB Industries construction mechs, driven by DeeBee Shepherds, in building Coalition of Ordered Governments Settlements.[1] Despite being designed for construction, they could be used as weapons.[2]
A single staple fired from this gun can kill a Swarm Drone, Scion, or Canker, though many more are needed to kill Carriers or Snatchers. The weapon will overheat with prolonged use, but can be cooled down. Staples can occasionally ricochet off of buildings and surfaces.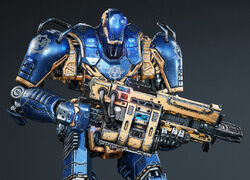 Appearances
Edit
References
Edit
↑ Gears of War 4: Act V: Gate Crashers
Ad blocker interference detected!
Wikia is a free-to-use site that makes money from advertising. We have a modified experience for viewers using ad blockers

Wikia is not accessible if you've made further modifications. Remove the custom ad blocker rule(s) and the page will load as expected.