This article is a

Stub

and needs your help. Please improve it by adding more information.
Hotel
Games
Default Weapons
Terrain

Urban
Hotel is a multiplayer map in Gears of War 3 set at night. It is based inside a hotel, as well as the streets around it.
Hotel is a mostly symmetrical map that is popular for Horde Mode. In Horde, players will almost always choose the command post inside the hotel because all enemies can be funneled into three entrances with lots of barriers, two turrets, a decoy, a Silverback and two sentries.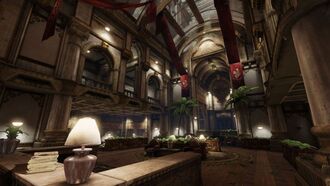 References
Edit
1. http://www.destructoid.com/e3-first-look-at-gears-of-war-3-s-new-horde-2-0-203257.phtml
Ad blocker interference detected!
Wikia is a free-to-use site that makes money from advertising. We have a modified experience for viewers using ad blockers

Wikia is not accessible if you've made further modifications. Remove the custom ad blocker rule(s) and the page will load as expected.