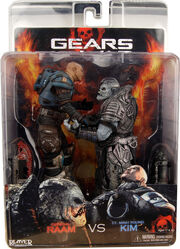 This article is about the Real World
This article is a

Stub

and needs your help. Please improve it by adding more information.
Box Summary
Edit
Humanity strikes back against the nightmarish Locust horde with a plan to detonate a Lightmass Bomb in the subterranean horde stronghold. The bomb requires targeting data from a series of deployed Resonators and unfortunately one has gone missing. Lieutenant Minh Young Kim and his Delta Squad are sent on a recovery mission but are ambushed near the House of Sovereigns.
Separated from his squad by a helicopter crash, Kim comes face-to-face with Raam, the monstrous and brutal field commander of the Locust. Their encounter ends tragically with Lieutenant Kim impaled upon Raam's blade.
Accessories
Edit
Each figure comes with two weapon accessories. Lt. Minh Young Kim comes with a Lancer Assault Rifle and Gnasher Shotgun. General RAAM comes with a hand-carried Troika turret and his signature, serrated sword. All can be used by the figures and are interchangeable with other figures.
About 3 months after the exclusive was released, Toys R Us had an exclusive series that included RAAM and Minh in singles packs.
Ad blocker interference detected!
Wikia is a free-to-use site that makes money from advertising. We have a modified experience for viewers using ad blockers

Wikia is not accessible if you've made further modifications. Remove the custom ad blocker rule(s) and the page will load as expected.