Home
Talk

165
1,930pages on
this wiki
Gearspedia
Gearspedia is a community that aims to create the best resource for the Gears of War series of games, and the universe they take place in.
We are currently editing over 1,930 articles.
All pages can be edited and you are welcome to join us and contribute to this wiki. Everyone is free to create a new page or edit an existing one. If you have any questions about the wiki or helping out, you can ask one of the administrators of Gearspedia. We'll be happy to help!
If you want to experiment with editing a wiki, please do it in the Sandbox, not in articles. Please do not do it in the articles because we love our articles! Go help Gearspedia please!
Article of the Month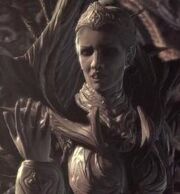 Queen Myrrah is the sole ruler over the Locust Horde and current primary antagonist of the Gears of War Franchise. With her ultimate goal of colonizing the Surface of Sera, she orchestrated the ruthless Emergence Day, which led into the Human-Locust War and the near extinction of the human race on Sera, while simultaneously waging a war against the Lambent Locust within the Hollow in the Locust Civil War. In both wars, the Locust Queen holds a bitter hatred against the opposing race.
The Locust Queen though remains for the most part shrouded in mystery, in part due to her unusual appearance in comparison to the rest of the Locust Horde, as well as her unexplained acquaintanceship with Adam Fenix.

Have a particular Article on Gearspedia you want featured? Vote for the next month's nomination Here.
Poll
Which Expanded Universe character do you most want to see in a Gears of War game or DLC?
Gears of War Fanon

Gears of War Fanon is our sister site. There you can write, post and read fan fiction dedicated to the Gears of War universe.
Infinity Blade

The Infinity Blade wiki is an affiliated site. There you can read and edit articles related to the Infinity Blade universe.