Gearspedia
Gearspedia is a community that aims to create the best resource for the Gears of War series of games, and the universe they take place in.
We are currently editing over 1,980 articles.
All pages can be edited and you are welcome to join us and contribute to this wiki. Everyone is free to create a new page or edit an existing one. If you have any questions about the wiki or helping out, you can ask one of the administrators of Gearspedia. We'll be happy to help!
If you want to experiment with editing a wiki, please do it in the Sandbox, not in articles. Please do not do it in the articles because we love our articles! Go help Gearspedia please!
Article of the Month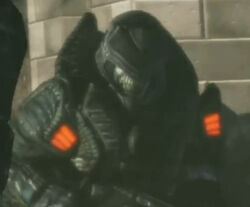 "Who's THAT!?"
"He's some kind of super Elite!"
"Fuck, he's a tough one!"
— Zeta Squad watching the Theron Elite in action
This unidentified Theron Elite, also referred to as RAAM's Elite Theron Guard and called Elite Grub by Michael Barrick, fought in the Evacuation of Ilima, accompanying Locust General RAAM. The Theron Elite had a personalized Elite Sawed-Off Shotgun, he was also able to control the Kryll to some extant, summoning them with a Kryll Grenade and using them to protect himself in battle. He fought against and was eventually killed by Zeta-Six near the end of the evacuation.
Poll
Which Gears of War extended universe character would you like to see appear in a future game?
Recent news
August 25, 2015 Gears of War: Ultimate Edition Released.
June 15, 2015 Also during the Microsoft E3 press conference, developer The Coalition debuted the first demo for Gears of War 4, coming Holiday 2016, giving us the first look at gameplay from the Xbox One shooter.
June 15, 2015 During the Microsoft E3 press conference, developer The Coalition Announced Gears of War: Ultimate Edition a remoter of the original Gears of War game which would be released August 12, 2015.
June 3, 2015 Rod also announced that the Gears of War (franchise) will be at E3 2015.
June 3, 2015 It was announced by Studio Head Rod Fergusson that the name of the studio has been changed from Black Tusk to The Coalition. This was done to more associate the studio with the Gears of War (franchise) also due to it describing the team dynamics; diverse individuals working together for a common purpose.
October 23, 2014 It was announced that their take on the Gears of War setting would not be a reboot, but would aim to be a return to the series's roots.
Gears of War Fanon

Gears of War Fanon is our sister site. There you can write, post and read fan fiction dedicated to the Gears of War universe.
Infinity Blade

The Infinity Blade wiki is an affiliated site. There you can read and edit articles related to the Infinity Blade universe.