Gearspedia
Gearspedia is a community that aims to create the best resource for the Gears of War series of games, and the universe they take place in.
We are currently editing over 2,219 articles.
All pages can be edited and you are welcome to join us and contribute to this wiki. Everyone is free to create a new page or edit an existing one. If you have any questions about the wiki or helping out, you can ask one of the administrators of Gearspedia. We'll be happy to help!
If you want to experiment with editing a wiki, please do it in the Sandbox, not in articles. Please do not do it in the articles because we love our articles! Go help Gearspedia please!
Article of the Month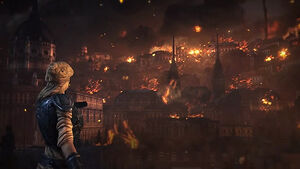 "Colonel, everyone in Halvo Bay is going to die..."
— Lt. Damon Baird
The Destruction of Halvo Bay was a three month long battle and one of the largest battles to take place in the early stages of the Locust War. Thousands of Onyx Guards and Gears, led by Colonel Ezra Loomis, fought against the Personal Guard of Locust General Karn in the streets of Halvo Bay and Onyx Point. Colonel Loomis, a Pendulum Wars hero who had spent twenty years fighting the UIR, was unable to adapt to fighting the Locust Horde. The Locust, who were led by E-Day planner General Karn, had just arrived from his early victory at the UIR rogue state of Gorasnaya. During the height of the battle, Colonel Loomis had Kilo Squad tried in a military Tribune without legal representation for a series of crimes. The Locust Horde military strategy contradicted COG military intelligence and thus the COG were unprepared for an intelligent enemy.
Poll
Who is your favorite Carmine?
Helping out
Gears of War Fanon

Gears of War Fanon is our sister site. There you can write, post and read fan fiction dedicated to the Gears of War universe.
Infinity Blade

The Infinity Blade wiki is an affiliated site. There you can read and edit articles related to the Infinity Blade universe.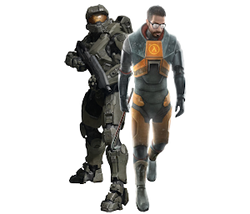 Shooter Games
Go to these sites for info or for help with your own wiki!
Agents of Mayhem • Battleborn • Battlefield • Borderlands • Brothers in Arms • Call of Duty • Counter-Strike • Counter-Strike Online / Counter-Strike Nexon: Zombies • Critical Strike Portable / Critical Ops • CrossFire • Crysis • The Darkness • Destiny • Diabotical • Doom • Duke Nukem • Far Cry • Fortnite • Gears of War • GoldenEye • Half-Life • Halo • Hunt: Showdown • Killzone • Max Payne • Medal of Honor • Overwatch • PAYDAY • Pixel Gun • PLAYERUNKNOWN's Battlegrounds • POSTAL • Prey • Quake • Red Faction • Resistance • Rules of Survival • SAS: Zombie Assault • Shadow Warrior • Splatoon • Star Fox • Star Wars: Battlefront • TimeSplitters • Titanfall • Tom Clancy's Ghost Recon • Tom Clancy's Rainbow Six • Turok • Unreal • Warface • Wolfenstein
Want your community included? See how!
See all of our Shooter gaming wikis!