This article is about the Real World
Gears of War 4 is the fifth game in the Gears of War franchise. Set 25 years after Gears of War 3, humanity is slowly rebuilding and repopulating, and planet Sera's weather is taking a violent turn due to the Imulsion countermeasure. But when a new, Locust-like enemy, the Swarm, starts kidnapping entire human colonies, JD Fenix and his two friends, Kait Diaz and Del Walker, have to step in to save their loved ones.[1]
This article is a

Stub

and needs your help. Please improve it by adding more information.
The game will feature optional microtransactions for cosmetic items. Players will be able to purchase crates called Gear Packs filled with cards that have different levels of rarity, and offer cosmetic changes in-game.[2] On the Xbox One version, the campaign and Horde modes will run at 1080p 30fps while the versus multiplayer will run at 60fps (30fps in split-screen) on an unspecified resolution.[3][4][5]
An early access beta period ran from April 18-24 for those who purchased Gears of War: Ultimate Edition before April 11. After the multiplayer beta early access period ended, all Xbox Live Gold users could play from April 25 to May 1.[6]
Gears of War 4 will introduce several new gameplay elements to the Gears of War series.
Windflares: A new environmental element, wind, will be a key feature in the game in the form of Windflares. These Windflares have been described as a 'mini boss battle'. They affect weapons, causing grenades and projectiles to change course, or even fly back at you. They affect enemies, causing them to stumble about in the wind, and, when killed, an enemy can be pulled apart and ripped off into the distance. Objects throughout a landscape can be freed up and used as projectiles against the enemy, or yourself if you're unlucky.[7][8][9]
Dynamic Cover: Cover is a core element of Gears of War, and Meat Shields and Boom Shields are forms of dynamic cover introduced in earlier games. Looking to advance dynamic cover even further, Pods were introduced. These pods can be shot, thus removing them and the combat advantages they grant from the battlefield. The pods could have nothing in them, or either a Drone, Juvie or Screamer; the latter of which could pop all the pods in the vicinity. Also introduced is the vault kick, where a player can slide over cover and kick an opponent on the other side, stunning them and opening up an opportunity to perform an execution.[7][8][9][10]
Melee/Executions: The ability to melee and execute enemies have been an evolving standard throughout Gears of War, and a further evolution will be in the form of Close Cover Combat (CCC), and the Combat Knife. A player can initiate the CCC system in the form of a series of close combat melee takedowns against another player, and that player can also counter it. The Combat Knife brings new executions to the game, and the execution animation will differ depending on where your player is situated in relation to an opponent (these executions are reminiscent of those seen in Middle-earth: Shadow of Mordor). While in cover, a player can reach over and pull an opponent onto their side and perform a knife execution; this is known as a 'yank-and-shank'.[8][9][11][12]
Cross-Buy/Play: Gears of War 4 supports Xbox's Play Anywhere program which allows players to play on both Windows 10 and Xbox One with shared achievements regardless of which platform it's purchased on at no extra cost. It will support cross-play across both platforms for co-op Campaign, Horde, and Versus Multiplayer against bots.
Appearances
Edit
Characters
Creatures
Events
Locations
Organizations and titles
Vehicles and vessels
Weapons and technology
Miscellanea
Multiplayer
Edit
Development for Multiplayer began at the same time as Campaign, so there was an equal focus on both aspects of the game.[12] Horde will also return, with the inclusion of combat classes, and skill and ability progression.[13]
Unlike previous Gears of War titles, players won't earn characters or rewards based on achieving certain levels. Instead, everything done in online multiplayer earns people Credits. Better performance in a game will result in an increased Credit return. Credits can be used to acquire your choice of Gear Packs available in the store which will unlock a variety of items in the form of cards depending on the Gear Pack chosen -- including character and weapon skins. A second in-game currency called Scrap can be acquired only through destroying cards (like undesired weapon skin cards). This currency is used for creating any individual cards rather than purchasing Gear Packs. Using Scrap, it's possible to create almost any card in the game. The amount of Scrap earned is based on the destroyed card's rarity, as is the amount of Scrap required to create a card.[14]
As opposed to Gears of War 3, Gears of War: Judgment, and Gears of War: Ultimate Edition having 3 Re-Ups, Gears of War 4 features 10 Re-Ups. Similar to Gears of War 3 and Ultimate Edition, Re-Ups will be available after reaching Level 100 unlike Judgment, which required the player to reach only Level 50 before Re-Upping. Every Re-Up awards bonus Gear Packs as well as a unique emblem to display behind the player's name in lobbies and scoreboards. A special icon is also earned that displays behind the player's Level number and playlist Rank.
Two separate balance setups have been introduced – Core and Competitive. Core settings are aimed at providing the common balanced and varied experience whether playing solo or with friends. The Competitive category has different settings that have been balanced to take into account the high levels of coordination and skill that come with competitive play, toning down damage and reducing certain factors like Aim Assist to highlight the best from the rest. Modes will fall under Core or Competitive in Matchmaking, but not both. Currently, Escalation and Execution are the two modes in Competitive due to their emphasis on team based play at the highest level. In private, players can choose which tuning set they want to play with any mode.[15]
Ranks are a new skill based matchmaking system, and are a visible skill rating that will provide you with opponents of similar skill levels, resulting in more balanced matches and a better way to grow your Versus skillset over time. Ranks are present for every Core and Competitive playlist and are assigned on an individual per-playlist basis. You'll earn your rank by playing 5 initial placement matches to help us determine your skill level – winning is what matters. After this, you'll be placed in one of five Ranks – Bronze, Silver, Gold, Onyx or Diamond – and one of the three tiers (numbered 1-3) within that rank. Consistently winning matches will increase the chances of getting a promotion to the next tier (or to the next Rank if at Tier 3). Conversely, consistently losing may result in getting demoted.
Along with the introduction of Core and Competitive playlists, there is also a new single unranked Social playlist. In Social, all Core game modes are mixed together into one playlist. At the end of each match, players will decide the next match by voting for the next map and mode combination they want - after the vote is finished, you'll quickly be transitioned to the next map (or mode if a new one was selected).[16]
In Gears of War tradition (with the exception of Judgment), Gears of War 4 will launch with 10 maps (9 brand new maps and a fresh take on Gridlock) with 2 downloadable maps being added each month after launch for a year. There will be around 34 maps total by Fall 2017. Every DLC map in the game will be available to play for free without the need to buy the maps in public lobbies which contain them in the map rotation for a limited time. When new maps are released, those will replace the previously released DLC maps in the rotation.[17] Private matches only require the lobby leader to own the DLC maps if players without the DLC are willing to play them for free without the need of waiting for map rotation to select one of the downloadable maps.[18]
Like Gears of War 3, Gears of War 4 has a Season Pass that contains instant access to released DLC. However, instead of receiving a Weapon Skin set, two map packs and two expansion packs, players will receive six Gear Packs, a Vintage VIP Pack containing a Vintage JD emblem, a Vintage skin for JD and the Gnasher and Dropshot weapons, and a Vintage JD Bounty that gives extra XP. In addition, the Season Pass also contains permanent access to DLC maps for private play, and exclusive access to a Developer Playlist which allows play for upcoming modes, maps, and variants before they are released publicly.
Multiplayer Characters
Edit
COG/Outsiders
Edit
The Swarm/DeeBees
Edit
Multiplayer Modes
Edit
Multiplayer Maps
Edit
* -- Exclusive to Competitive playlists in Matchmaking
Development
Edit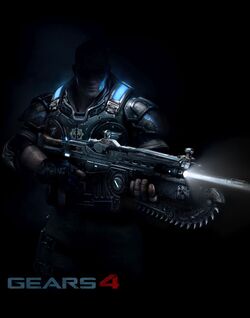 Epic Games began development on Gears of War 4 while People Can Fly worked on Gears of War: Judgment (a side project). Epic worked on the game for six months before selling the rights to the series to Microsoft. The game engine was more focused on PC and mobile platforms than consoles. After Microsoft bought the rights to the series in 2014, it sent the files and technology Epic had developed for Gears 4 to Black Tusk Studios. Black Tusk also retrieved story treatments and concept art. The idea of a Gears game set in the future, the concept of Marcus' son (the name "JD" existed this far back), were all ideas developed by Epic, and transferred to the Black Tusk version. A Swarm monster type also existed in the original version, though the nature of the Swarm itself changed over development.[19]
The game was developed as a sequel to Gears of War 3, rather than building off Judgment. The tone of its story went revision during development. Initially, the game was meant to be darker and more serious than previous games; Rod Fergusson liked the original trilogy to the Tim Burton Batman films, whereas in this stage of conception, Gears of War 4 would be akin to the Christopher Nolan films. However, this version was, according to Ferguson, not in sync with the developers' personalities, so the darkness was scaled back. However, in terms of concept, Gears of War 4 was designed to emulate the original game, where the Locust were a more mysterious enemy. It was also decided to keep the setting on Sera, as a frame of reference in the light of the absence of characters from the original trilogy and the introduction of new adversaries.[20] The game's narrative is, according to Fergusson, an 'evolution' from the style of previous games, in a bid to make the series more contemporary.
The game utilizes Unreal Engine 4, a first in the Gears of War series. Splash Damage was brought in to help work on the game's multiplayer map making and network engineering.[21]
Retail Editions and Pre-Order Bonuses
Edit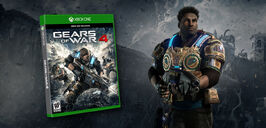 Standard Edition
Edit
Gears of War 4: Standard Edition includes only the base game. Digital purchases of the Standard Edition come with Xbox Play Anywhere. When you purchase a digital copy of Gears of War 4 on Xbox or PC, you'll gain instant access to the game on both platforms at no additional cost. Any progression or content you acquire on one platform, including Season Pass and Gear Pack content, will also be available on both platforms regardless of where you buy. Pre-orders from the Xbox Store also come with a Vintage Del Gear Pack -- featuring a Vintage Del character skin, emblem, two Vintage weapon skins and a special Vintage Del bounty. Pre-ordering digitally also provides instant access to the Gears of War: Ultimate Edition Character Pack for use in Gears of War: Ultimate Edition.[22]
Ultimate Edition
Edit
Gears of War 4: Ultimate Edition will be released on October 7, 2016. Includes base game, four days early access, Season Pass, steelbook case (physical exclusive), and Xbox Play Anywhere (digital exclusive). Pre-ordering on the Xbox Store also includes the Vintage Del Gear Pack and the Gears of War: Ultimate Edition Character Pack.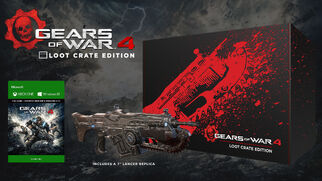 Loot Crate Edition
Edit
Gears of War 4: Loot Crate Edition will be released on October 11, 2016. It will include a digital copy of the game, a 7" Lancer replica, and a Gears of War-themed hoodie and glassware. Another version of the crate is also available without the game.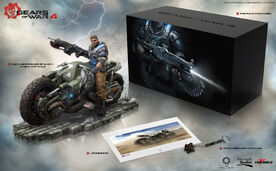 Collector's Statue
Edit
Features a statue of JD on a COG Bike standing at 11 inches tall and 19 inches in length. The statue is also bundled with a Lithograph of the concept art for the COG Bike, and a Frag Grenade keychain. There's also two variants of the statue to choose from – JD in COG Armor, or JD in Outsider clothing (exclusive to Amazon US). Some retailers will be bundling the game with the Collector's Statue, while others will offer it for standalone purchase.
Xbox One S Bundle
Edit
A two terabyte Gears of War 4 Limited Edition Xbox One S Bundle will be released. Includes Gears of War 4: Ultimate Edition, a custom Xbox One S console, and a Crimson Omen Limited Edition controller. [23]
Vintage Del Gear Pack
Edit
A pre-order exclusive Gear Pack featuring a Vintage Delmont Walker character skin, emblem, bounty, as well as two Vintage weapon skins.
Brothers to the End Elite Gear Pack
Edit
A pre-order bonus included in all editions of Gears of War 4. This pack pays homage to some of the most beloved characters from the Gears of War universe, and extends the tradition of offering gold weapons to day one players. This pack contains three unique character skins. [24]

"Tomorrow Anya" is named after her famous words following the end of the Locust War. Her appearance is based on her look in the Gears of War 4 television commercial, "Tomorrow," where she was introduced as the mother of JD Fenix.

"Old Man Marcus" features an older Marcus Fenix as unveiled in the E3 2016 media briefing demo. Twenty-five years after the Locust War, Marcus and the COG have long since parted ways. His facial hair has grown long and his COG regulation kit has been replaced by civilian clothes.
"Zombie Dom" proves there's no keeping a good soldier down, at least in the form of this character skin created as tribute to Marcus' dearly departed best friend Dominic Santiago.

This Gear Pack also includes the Gold Wave Gnasher and Gold Wave Lancer -- updated versions of the gold weapon skins awarded to the series' most-dedicated day one players.
Windows 10 Version
Edit
A Windows 10 version of Gears of War 4 was announced during Microsoft's press conference at E3 2016. It will support Xbox's Play Anywhere program which allows players to play on both Windows 10 and Xbox One with shared achievements and support cross-play across both platforms on every mode except Versus Multiplayer against other players. Owning the Xbox One version will unlock the Windows 10 version at no extra cost and vice versa.
Exclusive Features
Edit
Ability to fully rebind and customize the controls (including an option for actions such as evading and taking cover to be on separate keys)
Unlockable frame-rate and refresh rate
Resolution and dynamic scaling options for up to 4K resolution
Individual texture settings for characters, vehicles, effects, lighting, and world detail
Several visual settings
In-game text chat channel
System Requirements (AMD/NVidia)
Edit
Minimum Specifications
Min OS version: Windows 10 Anniversary Update
CPU: AMD FX-6300 / i5 3470 @3.0GHZ
GPU: Radeon R7 260X / GeForce 750 Ti
VRAM: 2GB
RAM: 8GB
Storage: 80GB free
Recommended Specifications
Min OS version: Windows 10 Anniversary Update
CPU: AMD FX-8350 / i5 4690 @3.5GHZ
GPU: Radeon R9 290X or RX 480 / GeForce 970 or GTX 1060
VRAM: 4GB
RAM: 8GB
Storage: 80GB free
Ideal Specifications
Min OS version: Windows 10 Anniversary Update
CPU: AMD FX-9590 / i7 4790 @4GHZ
GPU: Radeon R9 Fury X / GeForce 980 Ti or GTX 1080
VRAM: 4GB / +6GB
RAM: 16GB
Storage: SSD + 80GB free
Demo at E3 2015
Edit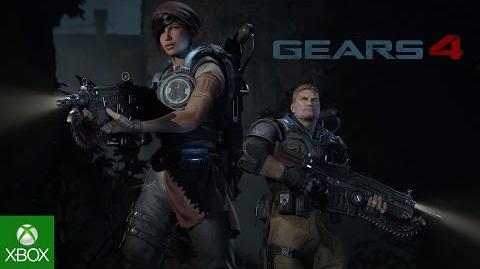 Gears of War 4 was presented for the first time during Microsoft's press conference at E3 2015 with six minutes of gameplay footage. The gameplay revealed Kait and JD, as well as Windflares and the Pouncer enemy.
References
Edit