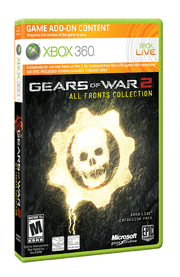 Gears of War 2: All Fronts Collection is the name of the single and multiplayer content combination pack released by Epic Studios on July 28th, 2009.[1] It will retail for $19.99 US or as DLC (Only Dark Corners) for 1200MS points.
Included in the "Gears of War 2: All Fronts Collection" is the Gears of War 2: Dark Corners Game Add-on, which features seven new multiplayer maps and a deleted campaign chapter entitled "Road to Ruin." In "Road to Ruin," Marcus and Dom return to the Locust Hollow in a scene that can be played two ways, guns blazing or in all-new stealth mode. Along with the new DLC are all of the previously released map packs: Flashback Map Pack, Combustible Map Pack, and Snowblind Map Pack. It also includes an "...introduction to "Road to Ruin" from Epic Games design director Cliff Bleszinski, a custom Xbox LIVE theme, and a collectible Gears of War 2 poster and strategy guide".[2]
Epic has now said that All Fronts Will be released over Xbox Live for 1600MS points and has reduced the price for Dark Corners down to 1200MS points.
The price for The All Fronts Collection has been reduced to 800MS points.
EPIC later canceled the retail edition.
References
Edit
↑ http://ve3d.ign.com/articles/news/46813/Gears-of-War-2-All-Fronts-Collection-Announced-Includes-New-Content
Ad blocker interference detected!
Wikia is a free-to-use site that makes money from advertising. We have a modified experience for viewers using ad blockers

Wikia is not accessible if you've made further modifications. Remove the custom ad blocker rule(s) and the page will load as expected.