Ezra P. Loomis
Talk

0
1,887pages on
this wiki
This article is a

Stub

and needs your help. Please improve it by adding more information.
Ezra Loomis
Biographical information
Date of birth

At Least 20 B.E.

Date of death

0 A.E. [1]

Physical description and equipment
Rank(s)

Colonel

Species
Gender

Male

Height

6'4" ft.[2]

Hair color

Black

Weapons
Vehicles
Chronological and political information
Era(s)
Notable Facts
Affiliation
"War is cruelty. And this one's not over."
— Loomis to Sofia Hendrik, after shooting General Karn
Colonel Ezra Loomis was a Gear officer in the Coalition of Ordered Governments army who was known for being a by-the-book individual. He charged Kilo Squad with treason during a battle at Halvo Bay.
Biography
Edit
Early Life
Edit
Ezra's father was a school teacher and as a result, grew up poor.[3]
Pendulum Wars
Edit
Loomis enlisted in the COG army and was a twenty year veteran of the Pendulum Wars where he climbed up the ranks. After fighting the UIR for twenty years, it left him a deep hatred and mistrust of the UIR and wasn't in favour of the Open Arms Program. He especially mistrusting of the Gorasni and how they treated POWs.[4]
Halvo Bay
Edit
"You and your squad might have killed a lot of Locust today, Lieutenant, but this war has only just begun. Our survival depends on one thing; Gears. Follow. Orders. But I look at you, and I don't see a Gear. I see something more dangerous....I see a hero. Well, congratulations hero, millions of citizens you've sworn to protect might die because of what you did today. I hereby charge Kilo squad with desertion, cowardice, trespassing, the theft of experimental military technology, and treason! Does that sound about right to you, Lieutenant Baird?"
— Loomis sentencing Kilo Squad with charges
After Emergence Day, Loomis continued to fight the Locust with the same tactics that he used in the Pendulum Wars. During a battle against the Locust in Halvo Bay, Loomis charged Kilo Squad with treason for not following orders and stealing and using experimental military technology without authorization. Right at the end of the trial the Locust disrupted the preceedings causing Loomis to delay verdict and fight for his own life, a drone with a Boltok Pistol managed to leave him unconscious and tried to use him as a meat shield, however Garron Paduk managed to kill the Drone and save Loomis life with a Longshot Sniper Rifle, he later appeared to flee from the battle. The fight with the Locust took place just outside the courthouse and Kilo began to think that he had abandoned them and fled, however he returned to fight off the grubs and killed a Boomer that threatened Kilo and the fight continued into the Plaza for the Tyran Dead where Kilo Squad with the help of Loomis killed the Shibboleth and General Karn with it (whom he personally executed with his Boltok Pistol).[5]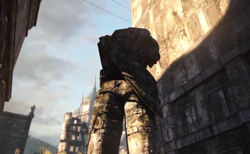 Last Stand and Legacy
Edit
"I heard about this guy! The Hero of Halvo Bay!"
"Hmm, hmm. That's one way of putting it,"
"Yeah, he was a man of principle. He's also, kind of a dick."
— Clayton Carmine, Damon Baird and Augustus Cole upon finding Loomis' memorial in 17 A.E. 
Loomis made a last stand in Halvo Bay near the Regency Hotel, but his forces were eventually overwhelmed and eradicated, with Loomis dying along with them. His body was recovered by the Coalition of Ordered Governments Engineering Corps after the battle and he was proclaimed the "Hero of Halvo Bay" for his actions. A statue was erected where he fell, honoring his sacrifice.
By 17 A.E., the statue had suffered heavy damage when Baird, Cole, Clayton Carmine and Garron found it outside of the Regency Hotel, but the plaque dedicated to him was still intact. The four Gears briefly discussed Loomis, and Baird agreed that while his last actions had been brave and principled, he was still "kind of a dick".[6]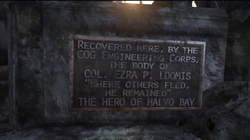 Personality and Traits
Edit
"Recovered here, by the COG Engineering Corps, the Body of Col. Ezra P. Loomis
"Where Others Fled, He Remained"
The Hero of Halvo Bay"
— The plaque on the Loomis Memorial
After Emergence Day, Loomis struggled to deal with fighting the Locust, and was unable to adjust his tactics to fight them differently than the Union of Independent Republics. Having lived his whole life in the military, Loomis was unconcerned with the lives of civilians and was dedicated to doing thing completely by-the-book with complete dedication to the values of the COG.[7]
Behind the Scenes
Edit
Loomis is voiced by Bruce Thomas.
Loomis is possibly named after the American poet Ezra Weston Loomis Pound.
Loomis unlike other characters keeps his pistol in a waist holster.
Multiplayer
Edit
References
Edit