This article is about the Real World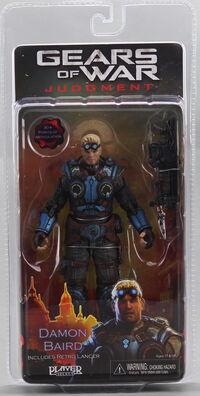 Box Summary
Edit
Damon Baird is ruthless in battle and regularly decorated and promoted for his tactical genius. Unfortunately, he is then demoted for his frequent bouts of insubordination and bad attitude. His intellect and engineering skills come in handy for battlefield repairs or understanding Locust strategy. After years of fighting, his only remaining motivation is self-preservation. He'll do whatever it takes to get through the war alive.
Accessories
Edit
Three removable screwdrivers on his leg.
The box description for Damon Baird (Judgment) is almost identical to that of Gears of War 3 Baird.
Gears of War Judgment is set one month after E-Day, yet the text says that Baird has been fighting for years and has been regularly demoted. A different box summary should have been written for this figure.
Ad blocker interference detected!
Wikia is a free-to-use site that makes money from advertising. We have a modified experience for viewers using ad blockers

Wikia is not accessible if you've made further modifications. Remove the custom ad blocker rule(s) and the page will load as expected.