COG High Command, or the Combat Information Center, was the headquarters of the Coalition of Ordered Governments armed forces. Once located in the House of Sovereigns[1] during the Pendulum Wars, it was relocated to Jacinto City after the fall of Ephyra. The HQ monitors all COG control zones, watches seismic activity, and gives orders to Gears on the ground via JACKs or com-link from the control commanders. Since the passing of the Fortification Act, most of the staff at the HQ were either crippled men, Gears that can't handle heavy duty, and women. Colonel Victor Hoffman is stationed here and gave Chairman Richard Prescott daily updates on the war effort. The CIC was in Wrightman Hospital.[2] After the sinking of Jacinto, the Coalition's new headquarters was an old emergency management command vehicle turned into a CIC Truck.[3] After the COG moved to Vectes, the CIC was located in the Admiralty House at Vectes Naval Base.[4]
List of CICs
Edit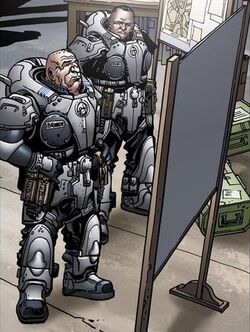 Known CIC Controllers
Edit
References
Edit
Ad blocker interference detected!
Wikia is a free-to-use site that makes money from advertising. We have a modified experience for viewers using ad blockers

Wikia is not accessible if you've made further modifications. Remove the custom ad blocker rule(s) and the page will load as expected.