This article is a

Stub

and needs your help. Please improve it by adding more information.
Chainsaw Dueling is a feature that was introduced in Gears of War 2. It requires the player to rapidly tap B in order to beat the opponent. This mechanic only activates when there are 2 chainsaw bayonets revved.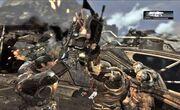 Behind the scenes
Edit
In Gears of War 2, when chainsaw dueling, if no one presses B, the chainsaw duel just randomly declines.
In Gears of War: Judgment, the chainsaw duel is shorter, lasting about 1-2 seconds.