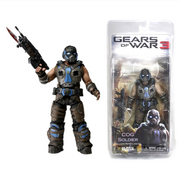 This article is about the Real World
Box Summary
Edit
I shall remain vigilant and unyielding in my pursuit of the enemies of the Coalition. I will defend and maintain the order of life as it was proclaimed by the Allfathers of the Coalition in the Octus Canon. I will forsake the life I had before so I may perform my duty as long as I am needed. Steadfast, I shall hold my place in the machine and acknowledge my place in the Coalition. I am a Gear.
Accessories
Edit
This figure comes with one accessory, a Retro Lancer.
Ad blocker interference detected!
Wikia is a free-to-use site that makes money from advertising. We have a modified experience for viewers using ad blockers

Wikia is not accessible if you've made further modifications. Remove the custom ad blocker rule(s) and the page will load as expected.