Boneyard
Games
Default Weapons
Boneyard is a Gears of War: Judgment multiplayer map included in the Call to Arms Map Pack.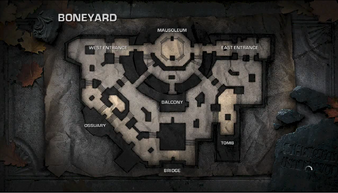 Description
Edit
The concept of traditional memorial services had to be suspended due to the constant stream and alarming volume of casualties as Sera fell victim to the Locust Horde. Memorial grounds quickly became boneyards. Unmarked holes became grave sites and mausoleums were filled with the nameless remains of the fallen, their skeletons piled into heaps. Tread lightly, you never know what, or who, you're walking on, and one day you're bound to join them.
References
Edit
Ad blocker interference detected!
Wikia is a free-to-use site that makes money from advertising. We have a modified experience for viewers using ad blockers

Wikia is not accessible if you've made further modifications. Remove the custom ad blocker rule(s) and the page will load as expected.