This article is about the Real World
Box Summary
Edit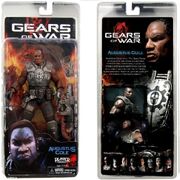 Augustus Cole, A.K.A "The Cole Train" is an adrenaline junkie and former professional Thrashball player. He craves action and prefers to take the direct path to the Locust Horde in any situation. What he lacks in subtlety he makes up for in raw energy.
Accessories
Edit
The figure comes with a Lancer Assault Rifle and a Snub Pistol. Both can be used by the figure and are interchangeable with other figures.
The figure is a mirror image of the in-game model with everything reversed on the body - i.e., his right is his left, etc. There is also a spot where a side arm holster may have gone, but was left off. Cole does have the sidearm holster in-game.
Related Articles

Edit
Ad blocker interference detected!
Wikia is a free-to-use site that makes money from advertising. We have a modified experience for viewers using ad blockers

Wikia is not accessible if you've made further modifications. Remove the custom ad blocker rule(s) and the page will load as expected.