This article is about the Real World
Box Description
Edit
Former "Control" dispatcher for Delta Squad, Anya is now a frontline fighting Gear herself. Defending the remnant of humanity has forged her into a tough and capable warrior, ready to tackle anything that comes her way.
Accesories
Edit
This figure comes with one accessory, the Mk 2 Lancer Assault Rifle.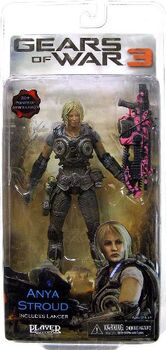 This figure is also available with a 'Deadly Cute' colored Lancer.