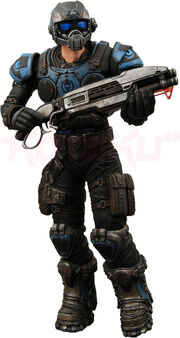 This article is about the Real World
Box Summary
Edit
Anthony Carmine is the youngest member of Delta Squad and although he lacks combat experience, he makes up for it in unbridled enthusiasm. Unlike the more senior Delta members, Anthony prefers to wear the standard COG-issue helmet to protect his head. The men of the Carmine family have always been soldiers and they believe that a hero's death in battle brings honor to the Carmine Name.
Accessories
Edit
The figure comes with two accessories, a Gnasher Shotgun and a Lancer. Both are inter-changeable and can be used with other figures.
This figure was a San Diego Comic Con exclusive and is hard to find.
Only 2000 SDCC exclusive Anthony Carmines were put into production because before the 2008 Comic Con, NECA had only released Series one and the license had yet to prove itself.