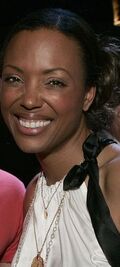 This article is about the Real World
Aisha Tyler is an American actress, stand-up comedian, and author, known for her regular role as Andrea Marino in the first season of Ghost Whisperer and voicing Lana Kane in Archer, as well as her recurring roles in CSI: Crime Scene Investigation, Talk Soup, and on Friends as Charlie Wheeler. She voiced Commander Walker in RAAM's Shadow.
Ad blocker interference detected!
Wikia is a free-to-use site that makes money from advertising. We have a modified experience for viewers using ad blockers

Wikia is not accessible if you've made further modifications. Remove the custom ad blocker rule(s) and the page will load as expected.